The symbology used in the U.S. military carries a historical significance. For service men and women earning various decorations through their years of service, those symbols will carry a special meaning throughout their lives. Certain insignia, decorations and awards given for extreme acts of bravery and other emotionally fraught situations will evoke strong emotional responses decades later. Other symbols emerging during times of war, such as logos, are so closely associated with significant events that they're almost like a stamp in time itself, exuding a sense of power, pride and patriotism.
Image via Wikimedia Commons
U.S. Civil War The U.S. National Park Service describes the U.S. Civil War, which took place from 1861 to 1865, as "a defining moment in our nation's history." There are multiple national parks where significant battles took place, such as the Gettysburg National Park in Gettysburg, PA where the pivotal Battle of Gettysburg took place in July 1863 and Abraham Lincoln delivered the revered Gettysburg Address.
The Confederate flag is perhaps the most widely-recognized symbol of the U.S. Civil War, which took place between 1861 and 1865. Today, Civil War enthusiasts carry out reenactments in full dress and scouts participate in programs such as the Gettysburg Heritage Trail program, earning patches designed to honor historically significant people and places related to the war. The earliest military patches on record are actually sleeve patches used during the U.S. Civil War to indicate a soldier's rank. Other insignia to identify a soldier's corps or division were usually located on the caps.
Image via Library of Congress
World War I Military patches and insignias became more widely used by World War I. By 1919, there were more than 70 different chevron designs because the standard policy was to create a new chevron for every rank. Around the end of World War I, a clear distinction was made between rank and grade, where previously each new rank was made equal to an existing grade. This obviously led to a rather confusing set of chevrons, so the U.S. Army decided to create a newly designed chevron along with a more standardized process for signifying rank, grade and other information, including many awards and decorations issued in the years immediately following the war.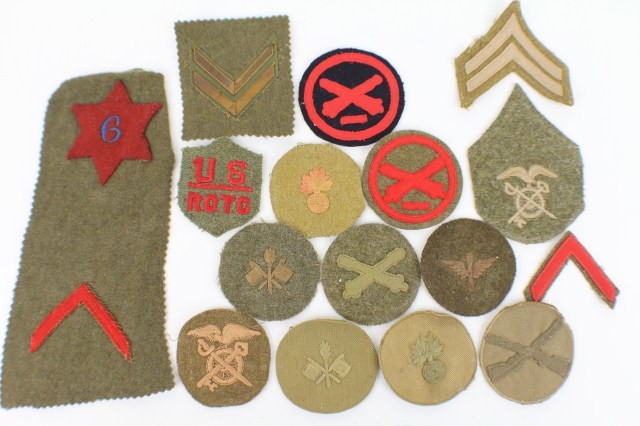 World War II By the beginning of World War II, all U.S. military corps, divisions and brigades were being issued insignia. Interestingly, Disney enlisted its artists to draw 1,200 logos for the U.S. military, primarily logos for the naval units. Disney eventually had to allocate five artists full-time to the task due to demand, and the insignias that served such an inspirational role during that time now also hold a special significance in the Disney history books, as well. Symbology extends beyond the insignias used at the time, into the World War II Memorial which holds special symbolic meaning in just about every element of the park's layout and appearance.
Image via Wikipedia.org
Korean War The Korean Wartook place between 1950 and 1953. A civil war between North Korea and South Korea, which had become increasingly divided politically, the Korean War is sometimes called "The Forgotten War" because it received little public attention both during and after the war compared to World War I, World War II, the Vietnam War and other events. The U.S. aided South Korea in its defense against the communist North Korea with the majority of the 341,000 international soldiers orchestrated by the United Nations. The Korean War does not represent a time of significant change in terms of insignia and symbolism, as much of the standard practices were carried over from World War II. North Korea and South Korea remain divided rivals today.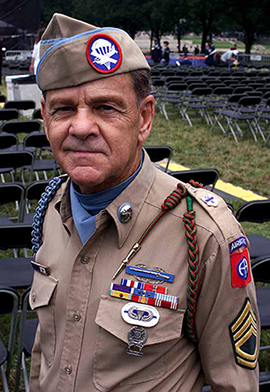 Image via Defense.gov
Vietnam War The Vietnam War is the longest war in U.S. history, spanning four U.S. presidencies, including Harry Truman, John Eisenhower, John F. Kennedy and Richard Nixon. The Vietnam War is probably most well-known for its lack of public support from U.S. citizens. In January 1973, Richard Nixon signed the cease fire order that would finally end military hostilities, although the impacts of two decades of war were far-reaching. Korean War Veterans struggled to re-acclimate to U.S. culture upon returning from deployments, only fueling the anti-war movement among the public. Spanning such a long period of time, there are many emblems and insignias that were used during the Vietnam War era.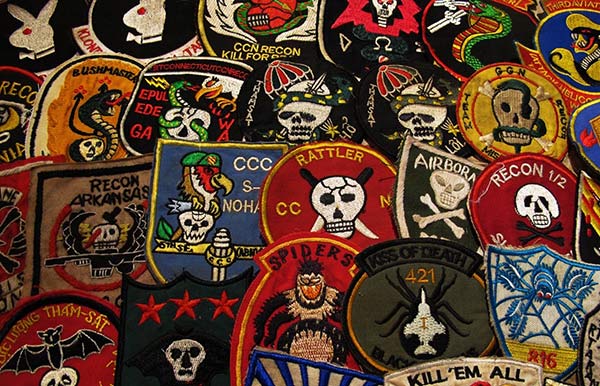 Operation: Desert Storm Operation: Desert Storm refers to a massive air strike that marked the beginning of the Persian Gulf War in 1991. With mainstream media proliferating U.S. culture at the time, "Operation: Desert Storm" was perhaps a better-known term to most citizens than the Persian Gulf War.
Persian Gulf War The Persian Gulf War began in 1991, following Iraq's invasion of Kuwait in 1990. President Bush sent 430,000 U.S. troops to Iraq to head the United Nations-orchestrated effort to protect Kuwait from a hostile takeover. The First Persian Gulf War ended later that same year, but hostility remained and sparked military action again in 1993, this time led by President George H.W. Bush. The Second Persian Gulf War is also known as the Iraq War. The Persian Gulf War represented a marked shift in military attire, with changes designed to blend in with the surroundings in the Persian Gulf region.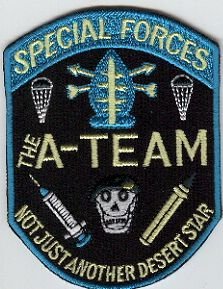 Image via military-insignia.us
Cold War The Cold War represents the period between 1947 and 1991 (historians may use varying dates) during which there was hostility and tension between the U.S. and its allies (the Western Bloc) and the Soviet Union and its allies (the Eastern Bloc). It's known as the Cold War primarily because there was little active combat, although there were some battles that occurred in Korea and Vietnam. Because the Cold War spanned so many decades, there are many emblems, medals and insignia that were used throughout the Cold War period.
Image via Wikimedia Commons