If you are looking to enhance your knowledge of embroidery stitching styles, check out the list we compiled of common stitches that you may want to be aware of when creating a patch. These techniques are all used through machine embroidery, however, I have included hand-sewn photo examples to emphasize these techniques.
Get started making your set of patches with us, here. 
1. Underlay Stitch: This stitching style is laid down before other design elements to help stabilize stretchy fabrics and tack down high wales or naps on fabrics so the design's details don't get lost. This is the backbone of modern machine embroidery.
2. Two-ply Stitch: This is a double running stitch. The stitch is formed by the machine sewing a complete running stitch area and then coming back over the same area and stopping where it started. Sews from Point A to Point B and then from Point B to Point A. This example is a hand-sewn two-ply stitch, making it easier to see the technique.
3. Tie-In Stitches: These are small stitches used at the beginning of a sewing cycle, particularly on satin stitches, to prevent the thread from pulling out of the embroidery.
4. Tie Off Stitches: These are small stitches, usually about 1 mm in length that "lock" the stitches in the fabric to prevent the stitch from unraveling when the thread is trimmed. Without Tie off stitches, the thread can potentially unravel and destroy the embroidery. This stitching style is particularly necessary when making satin stitches wider than 1.2mm, as satin stitches have a tendency to unravel more easily than running or fill stitches.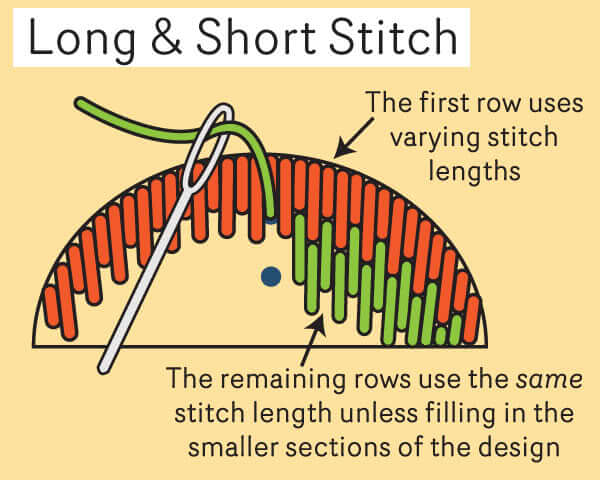 5. Short stitch: A digitizing technique that places shorter stitches in curves and corners to avoid unnecessarily bulky build-up of stitches.
6. Satin stitch: Formed by closely arranged zigzag stitches. Usually used to fill large spaces of surface area.
7. Lock stitch: Commonly referred to as a lock-down stitch, it is formed by three or four consecutive stitches. Used at the end of all columns, this stitch fills any element where jumps will follow.
8. Interlock stitch: These are two or more rows of overlapping satin stitches.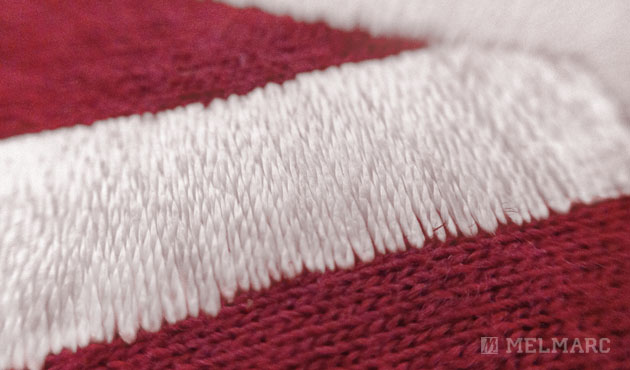 9. Fill stitch: Series of running stitches commonly used to cover large areas. Similar to Satin Stitching styles.
10. Cross-stitch: Two stitches that cross at the center to form an X. A common craft with a classic look.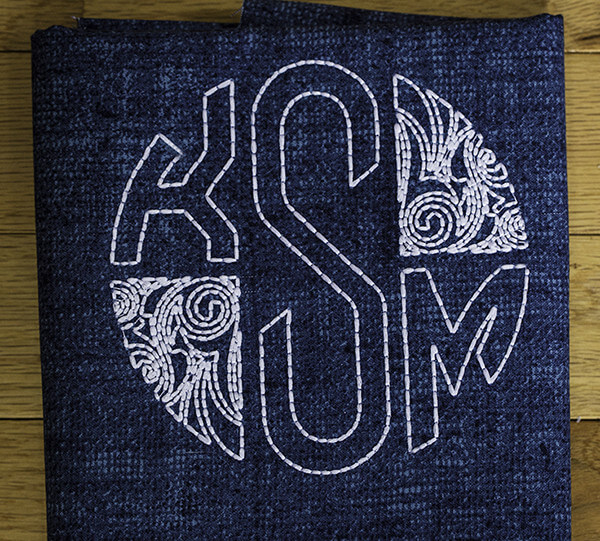 11. Bean stitch: Three stitches placed back and forth between two points, often used for outlining. Note the outlining of the initials on this piece.
Want to learn more? Contact us and get started creating your own patches.