Embroidered Patches
I've never ordered patches before. How do I start?
It's easy. All you have to do is fill out a free quote, upload your design or ideas and let us know any details about it. If you don't have a design ye don't worry we can turn your ideas into reality and  help create it for you for free with your order!
What's a Hot Cut or Laser Cut Edge?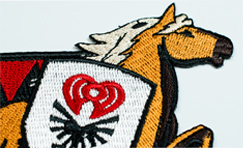 Hot Cut Edge is embroidered with same process as your design. The patches are then laser cut into the shape. The edge can be as little as 1mm thin and is recommended for use with iron on backing. This will also give you the direct embroider effect.
What's your Standard Backing
All of our patches come standard sew on. We recommend Plastic Backing or Iron On this is a protective coating that seals the back of the patches and keeps your patches looking good for many years
Do you send out samples of previous patches done?
Yes, however, you might want to check out our sample page first.. If you are still not convinced please send us an email with the type of patches your wanting to order.
Proprietary Military Grade Thread
Whats the turnaround time on patches?
Typically your patches will be in your hands in about 7-10 days.  However it can take up to 14 days on some orders depending on time of year and quantity.  If you have a specific deadline let us know and we can try to accommodate it.
How do I Iron On Patches?
Using a standard house hold iron? Click Here for Iron On Patch Instructions
For using a commercial Heat Press then you should test at 375° with medium pressure for 15-20 seconds. Then adjust up from that till you get the desired temp and time. Also make sure to use a Teflon sheet on top so it does not scorch the garment.
Can I order 50 of one design and 50 of another and get the 100 piece price?
No, All of our pricing is set per design or color scheme. Therefore you would go off the 50 piece price.
What is the Minimum Patch Order
20 Patches Per Design. Design is defined as the exact same color scheme with no changes.