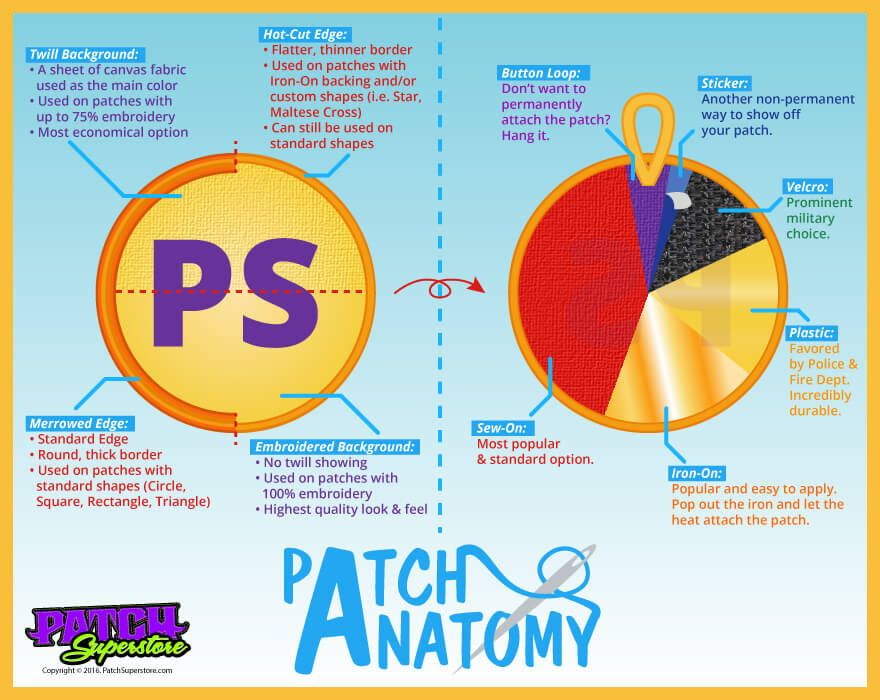 Patch Anatomy
Twill Background:
A sheet of canvas fabric used as the main color
Used on patches with up to 75% embroidery
Most economical option
Embroidered Background:
No twill showing
Used on patches with 100% embroidery
Highest quality look & feel
Merrowed Edge:
Standard Edge
Round, thick border
Used on patches with standard shapes (Circle, Square, Rectangle, Triangle)
Hot-Cut Edge:
Flatter, thinner border
Used on patches with Iron-On backing and/or custom shapes (i.e. Star, Maltese Cross)
Can still be used on standard shapes
Sew-On:
Most popular & standard option.
Iron-On:
Popular and easy to apply. Pop out the iron and let the heat attach the patch.
Plastic:
Favored by Police & Fire Dept. Incredibly durable.
Velcro:
Prominent military choice.
Button Loop:
Don't want to permanently attach the patch? Hang it.
Sticker:
Another non-permanent way to show off your patch.
Download this infographic.