Custom Military Challenge Coins
Custom Military Challenge coins have been around for many years. The army began using them as a way to identify or group individuals. As the years passed, other social or sport groups adopted the idea of using coins as a way to recognize or mark achievements. This last decade has grown to appreciate what custom challenge coins mean and the positive reinforcement they can exhibit in the workforce or sporting world. When someone is in need of a self-esteem boost, recognition, or that extra push, these medallions are given to him or her. With our expertise, excellent service, and skilled graphic designers, we can create challenge coins personalized to your unique needs.
Commemorative items such as these recognize hard work, and when they are customized it adds value to the coin. When an individual feels appreciated, no matter what their job status or rank is, they strive to continue improving with a positive attitude. Bosses, owners, and coaches may choose to look into purchasing a challenge coin for sale that contains the message they want to give. We can add that personalized touch to your coins; we take your ideas and turn them into personalized challenge coins. Custom work begins with contacting one of our sales associates. They will give you information on the size, colors, and details needed to produce your coins. Adding words of praise, symbols, or company names look great. Our graphic designers only need a sketch of what you want to start the design process. You can quickly draw it up, scan it, and e-mail it over to us. The graphic designers will take your basic sketch and use it as a foundation for a unique item that will surely have sentimental value. Before the coin is made, an image will be e-mailed to you for approval. If anything needs to be revised, we will do it for free.
Quality Custom Challenge Coins
When we started our business, it was with the desire to create quality products that will last. A custom military challenge coin is more than a small trinket; it symbolizes the hard work an individual did. It won't be tossed to the side, but will be held onto for years. It is a memento. As a Service-Disable Veteran-Owned Small Business we provide that lasting quality at the affordable prices you want. You will never wonder when a product will arrive or the condition it will be in. We control the quality of the design process, customer-service, and coin production; we own our factories and never hire-out work or middle men. We value our customers, and providing them with the best coins means we oversee quality-control from the beginning to the end.
Challenge Coin Samples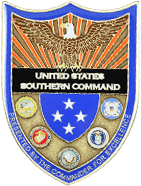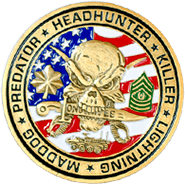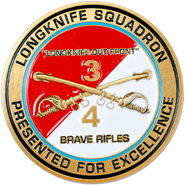 Every Order Gets Free
Air Shipping in the USA
10-14 Day Turnaround
Up to 7 Pantone Colors
Artwork Setup
Custom Design
On Time Delivery
Quality You Can Trust
Trusted by Major Companies

Quality service we stand behind
We want your custom military challenge coin to look and feel just the way you imagined it would, but we also want you to experience exceptional and sincere service. When something goes wrong or you have a simple question, it can be completely frustrating when no-one answers the phone or listens to your concerns. This is why our customer service is available to you every hour of the day; whether you call in the afternoon or the middle of the night we will have someone here to help you. Along with excellent customer service, we will get you your product quickly. With turnaround times between 7-10 days, we guarantee you will receive your custom-made challenge coins by the delivery date we say. You will never be waiting on us. With help from the moment you find our online shop, to after you receive your purchase, we are here for you. Call us today so we can get you on the path to designing your coins. Design with us it's easy…. If you can dream it we can create it!