Military patches serve multiple purposes, they can advertise what a group specializes in, their mascot and even their nickname. If a patch is not used officially on uniforms, it is called a Morale Patch. These patches usually feature an unofficial mascot or highlight the nickname a member of the unit was given for his service. They can also recognize outstanding performance or exceptional work. Sometimes they also commemorate important events like anniversaries.
Most of all military patches are used to let others know what unit the wearer belongs to. Below are a collection of military patches we designed that we absolutely love.
1. Helsuppron Two: Fleet Angels
This hot-cut patch has a lot going on. There are 4 different images drawing the eye. The grim reaper, the angel, the duck with a sword and finally the helicopter. All of the elements are distinct but work well together. The colors are bold and the text is easy to read. Great patch!
2. HMH Iraq Military Patches
This is a great morale patch commemorating a tour of duty in Iraq. The colors in the design work together and this is an excellent example of the shapes that hot-cut edges are able to achieve. The stitching on the wings and the tiger's body are tight and consistent.
3. Battle Arms Development
This patch has a unique shape akin to a Japanese throwing star. This fits perfectly with the subject matter on the patch as it is for a weapons developer. The earth-toned color scheme all blends well. Also, love that each branch of the star has a different design on it.
4. Black Rabbit
This merrowed edge patch is incredibly nice to look at. It was created for a special ops group aptly named, The Black Rabbits. Not only does the patch convey the name of the group, it also doesn't paint a cute or cuddly picture of a rabbit.
5. Hot Monica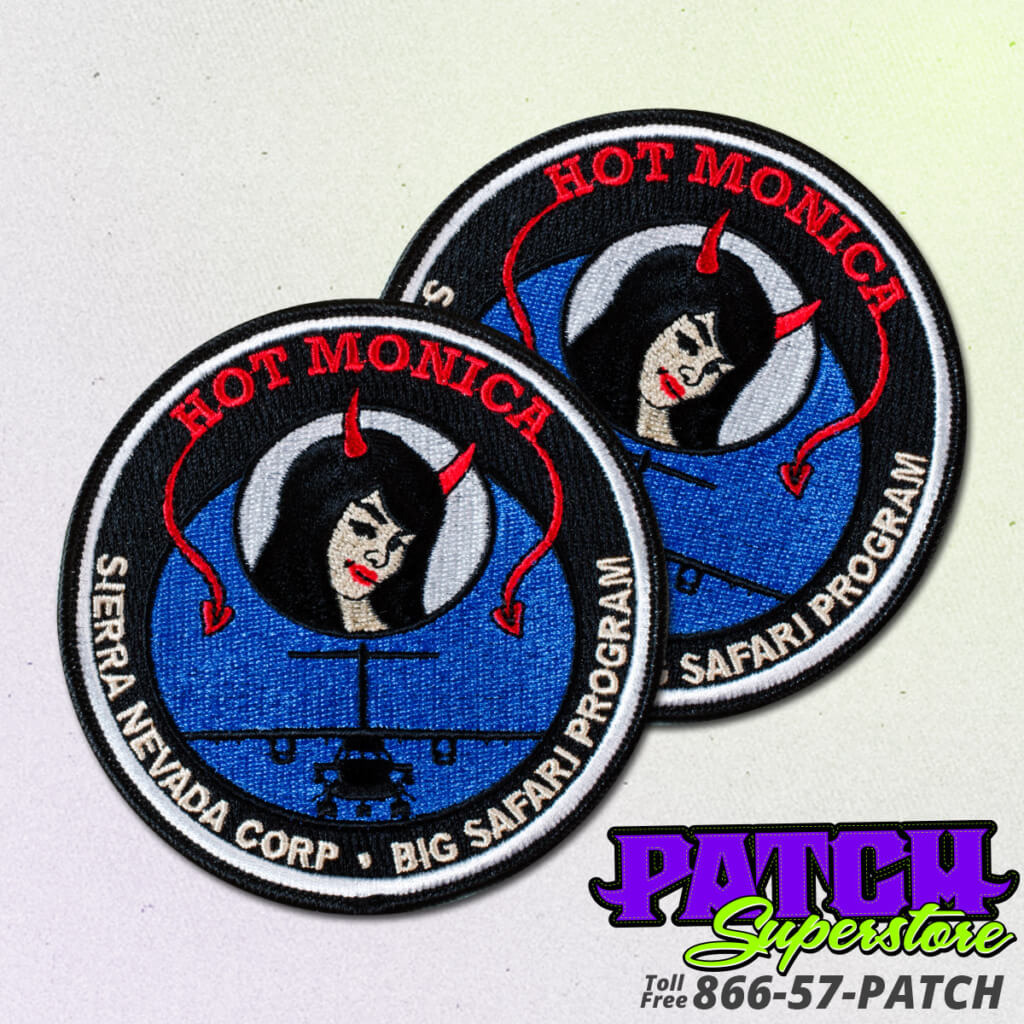 We don't know who Monica is but she should be flattered. This patch is a great example of how a little can go a long way. All in all, it's a very simple design – Monica, the helicopter, and the text surrounding these two spheres. Because the colors are so bold and complimentary, they elevate this patch design from ordinary to awesome.
6. De Nocte Vespertilio
This one runs the gamut, look at all of those symbols! We've got a monolith, a crescent moon, a jet, and even a police car. "De Nocte Vespertilio" is Latin for Night Bat or Bat of the Night. This is a really cool way to illustrate that.
7. Phi Air Medical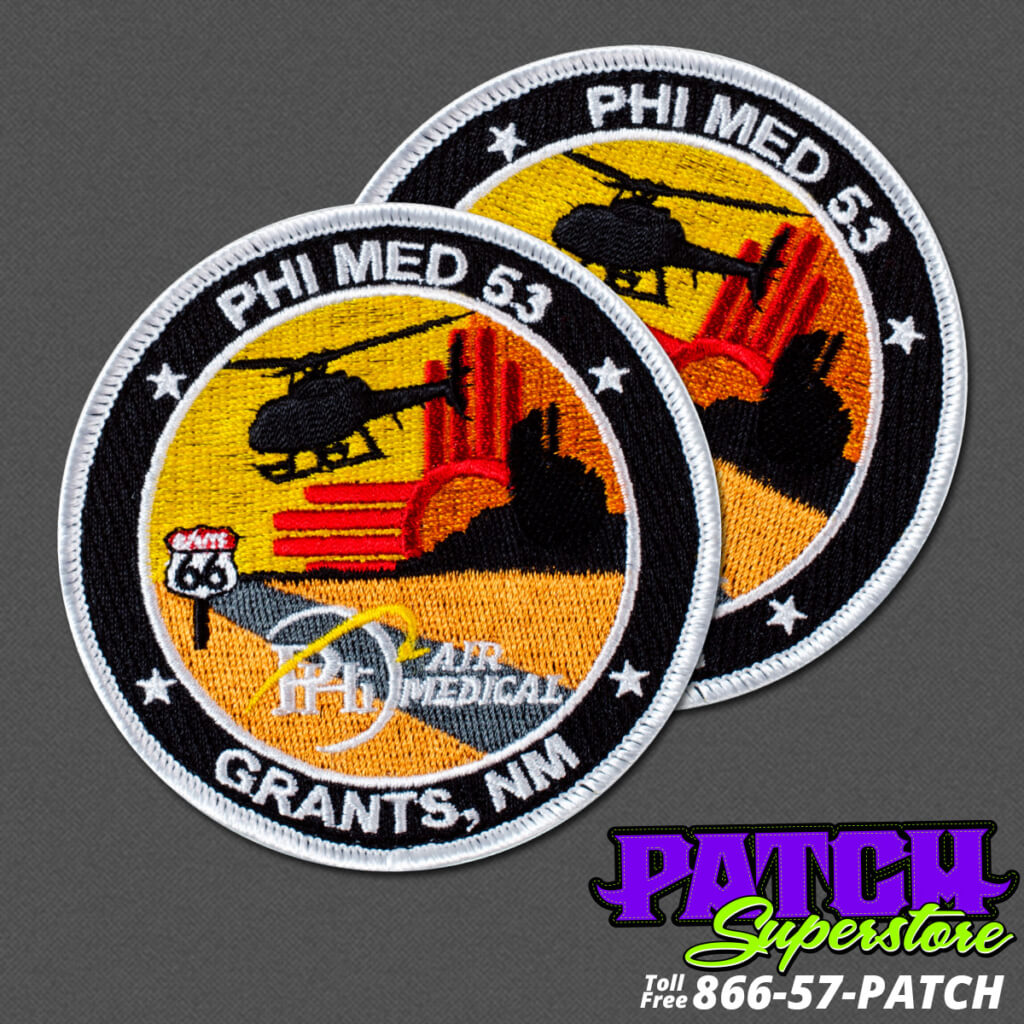 This patch comes from an air medical support team in New Mexico. It includes some really cool New Mexican iconography. The Route 66 sign is a really great touch, the red Zia Sun symbol blends perfectly with the yellows and oranges of the desert sunset and we've got another helicopter, this time entirely in shadow. The best part about this patch is that the design doesn't detract from the logo at the bottom.
8. Navy BAMS-0
This is another commemorative patch to mark a tour of duty. It also denotes a 10,000-hour service mark. Patches like this, especially ones designed as well as this one, are guaranteed to be worn and treasured. We love the shape of this as well, it resembles an arrowhead or a spearhead, often used by indigenous island cultures to spearfish – which totally fits with their maritime theme.
9. Amphibious Force Flagship
We're guessing an amphibious force works both on land and in the sea. This explains the inclusion of an alligator. Again with the plethora of symbols! We have a golden globe, some lightning bolts, and gold chain link around the border of the inner circle. Ultimately, the text is easy to read and the message is carried across very effectively.
10. Crazyhawk
The shape and look of this patch are excellent. The colors really pop and make a bold statement. The design of the hawk is cartoonish and scrappy but it still conveys the "Don't Mess With Us" attitude. The inclusion of the stars is also a really nice touch.
If your unit or organization is looking to design some morale patches or even uniform patches let us take the guesswork and hassle out of it! Get started here.